A Letter from Angela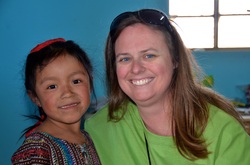 Angela with Karina, a little girl from El Barranco
Dear Friends:
Life sometimes takes unexpected turns & I have to say in 2000 I never expected to be writing a letter explaining my passion for helping children & families in Guatemala!
A little history – during the adoptions of two of our children, we became involved in a wonderful local adoption support group called " Nuestros Niños" (translates to "Our Children"). Though the group was started by families for Latin American Adoption and originally referred to our adopted, Latino children – it has definitely taken on a greater meaning over the years. For me it refers to our children (biological or adopted) that we hope to instill a love of serving. It also refers to the children that we help – taking an "ownership" of the role that we play in affecting their lives in a positive way.
During our travels to Guatemala, we have had the chance to see the beauty of the country – the colorful, woven huipiles; the lush landscapes; beautiful waterfalls & volcanoes; the yummy black beans, tamales, and pepian; the sounds of the marimbas; the kindness and trust of strangers; and the list goes on. We have witnessed the poverty – the children selling their wares on the street; boys offering to shine shoes; and the very small children running up and down streets by themselves. We have seen many children not in school; along with children's hair that should be black, but have streaks of blond due to malnutrition. We have seen the children without shoes or food for the day; the "lost" eyes; the children that sleep on the dirt floors; and so many more examples.
We have also witnessed the resilience and hardwork. The women that can carry 60+ lbs on their backs up a very steep hill. The children who work hard to make money so their family may eat. The young man severely burned over his entire body as a child (left with only 2 toes), who leads volunteers through amazing terrain to help others. The women who wash the family's clothes with collected rainwater on a stone. The families who farm the land with no machinery – only a machete and basic tools. The children who ride their bikes for an hour through dirt mountain paths at 7,000 ft. to have the chance to go to the middle school in the area…
Then there are the "formal numbers"…
Poverty:
The Gross National Income per capita is $2,680.
38% of the population is indigenous, but the poverty rate amongst this group is 76%, with extreme poverty reaching 28%.
The poorest 40% of Guatemalans earn 11% of the total household income, while the wealthiest 20% earn 58%.
54.3% of children under 5 years of age have stunted growth.
Education:
A typical American 1st grade classroom has approximately 25 students. If we use the Guatemalan statistics, only 15 American children will finish the 6th grade; 6 of those 15 students will be at the right age, while the other 9 who finish will be older. That means that 10 children will not have the opportunity to even complete 6th grade. I remember meeting one boy who was 15 in the third grade – but he was still working hard to learn and seize the chance of education!
12% of students start "Diversificado" – our equivalent to high school. In the rural areas, the average is closer to 6%. In the urban areas, only 37% of the students are age appropriate for their grade. In the rural areas, that decreases to 26%.
Population:
Population: 13,550,441; 49% urban, 51% rural
42% of the population is under 15 years of age and 70% is under age 30. Age 19 is the median population age.
29% of 7-14 year old children work.
50+% of the population is comprised of children & adolescents under age 18. 50% of this group (3.7 million) lives in poverty. It gets much worse in rural areas – 76%, and amongst the indigenous population – 80% live in poverty.
After witnessing all of this and hearing the statistics, the question really became how could I not help? During my interactions with other non-profit workers in Guatemala and the individuals I have met, I have come to the belief that many Guatemalan mothers (and fathers) want the same "good" things for their children as I want for my own. They want them to have food, a comfortable place to sleep, and opportunities for growth. The differences are that when you are living so close "to the edge" and just trying to survive – it is that much harder to make those "good things" a reality. I can't imagine having to collect whatever water I am going to use for the day in buckets or barrels from rainwater, a lake, or a stream. Or how about washing my family's clothes by hand and sleeping on a dirt floor with my children? And the list goes on… I have to say there are days with my three children that I am at my wit's end – and I don't give it my "all" – I can't imagine the feeling of hopelessness that a mother in Guatemala might feel. I know that here if I fall on hard times, I have a social network that can help me get through a rough time. In Guatemala, the social network is mainly non-profits or religious groups.
So, I do believe in the people of Guatemala and believe the majority work very hard to survive and make the best life for their family. I truly believe education and the empowerment of women is vital to breaking the cycle of poverty! However, before families can understand the importance of education and a sustainable employment, they need to have their basic needs met. Therefore, Nuestros Niños will work to provide opportunities for education and the empowerment of women; with the understanding that the basic needs of food, shelter, and clothing must be met too. During our work, we will encourage "our children" to be involved and learn from the Guatemalan people. By instilling a sense of service in a child, we teach them about compassion, respect, and the ability to make an impact on our world. By providing service trip opportunities for families, my hope is that others will experience the gift of giving and leave with Guatemala in their heart.
So, I thank you for thinking about a Guatemalan child in need as "our child" – and not just a statistic. I hope that you will check back often for ideas to see what we are accomplishing and on how your family, school, or place of worship may be able to help another human being.
Thank you!
Angela Grussing
---
Service. Compassion. Hope.